Features
Five Tattoo Artists You Need To Know, by Leeched's Tom Hansell
Leeched drummer and tattoo artist Tom Hansell lists the tattoo artists you need on your feed.
To look at Leeched drummer Tom Hansell, one would not be surprised to learn that he knows his shit when it comes to tattoos. Not only is Tom heavily inked up, he's also a working tattoo artist in Manchester, as well as one third of one of the most destructive, vitriolic bands on the scene right now. Despite his two-headed brutal profession, though, Tom is thoughtful about his work on the phone, and sees both his artistic and musical careers as creatively intertwined.
"Funny enough, they're both quite connected in a way that they shouldn't be," says Tom. ​"It's self expression — I like doing weird shit. I like drawing for myself, and if the design gets taken, bonus! If not, I don't really care. I'm not here to please people, either in the music or tattoo industry. I'm out there to make stuff. The weirder the better. The more out-there, the better. You'd be surprised — people just like it. There is a massive following for all that stuff. I don't really make generic-happy-cute stuff. They're very bleak, blunt, in your face. Across the street, you know what it is."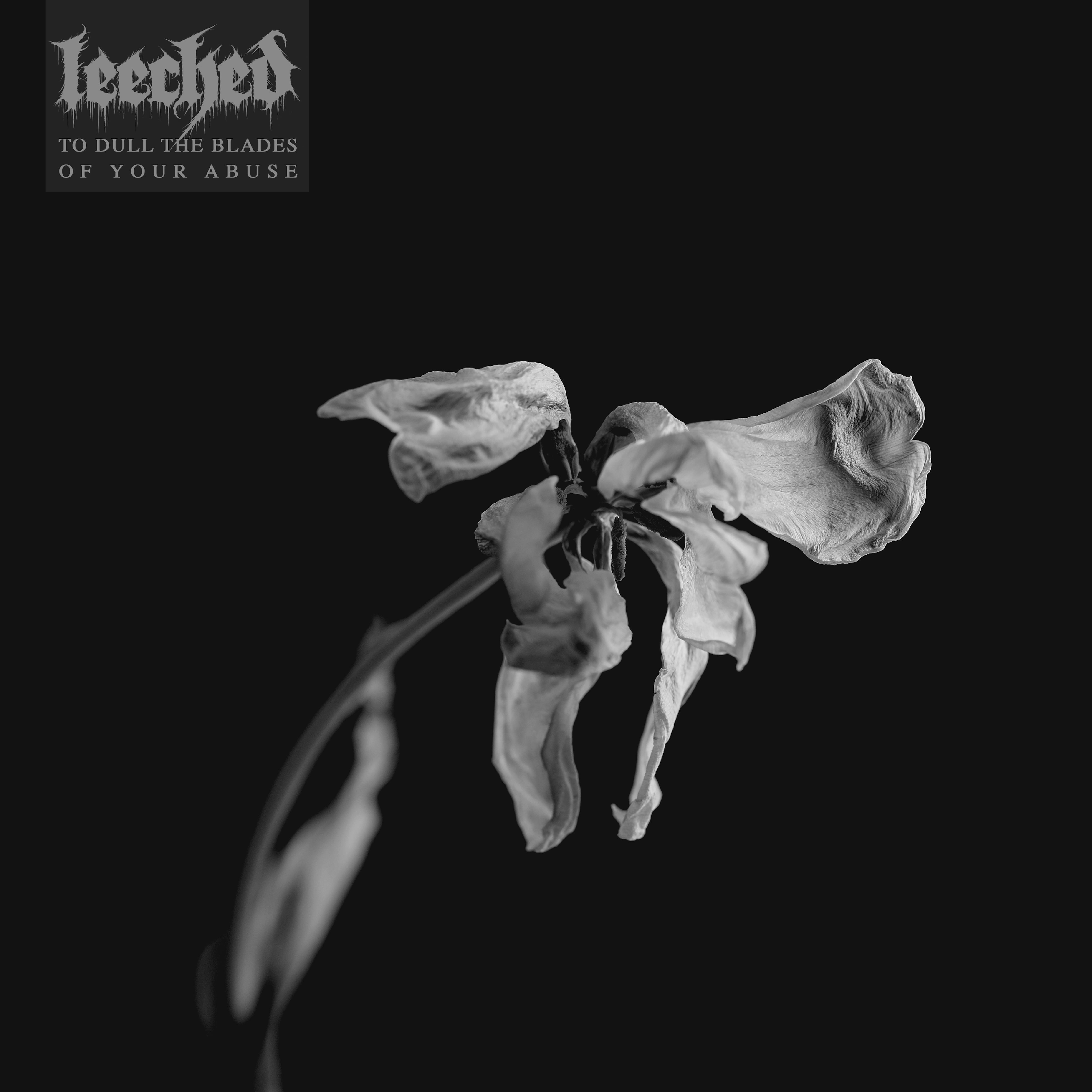 READ THIS: Watch Pig Destroyer's Scott Hull get tattooed by Paul Booth
Bleak, blunt, and in your face are definitely words that could be used to describe Leeched's upcoming new album, To Dull The Blades Of Your Abuse, out next week. The record's sheer ruthlessness will no doubt attract new legions of fans for the band, who have already developed a grassroots following. One wouldn't be surprised if kids start asking Tom for Leeched tattoos — though they wouldn't be the first.
"I had one request… and that request has been fulfilled," says Tom with a chuckle. ​"There was a girl named Claire, who I did not know even existed. Her brother hit me up and said, She wants a tattoo, would you be interested in doing it? And he bluntly said, She wants a Leeched tattoo, and I replied with, …why? Turns out, she's a crazy fan — not a crazy fan like she's insane, though you'd probably have to be to enjoy this sort of horrible music — but she wanted a Leeched tattoo, and thought it would only be right if I did it. I thought one day I'd do a tattoo, but I thought it'd be on a friend or a fucking band member, you know? It has been done. It's on skin forever."
Curious as to who such a connoisseur considers exciting within his field, we asked Tom to give us a list of his favorite tattoo artists right now. Here's who he gave us…
Lee Morris
"He was the guy that taught me everything. I'm currently still working at the same studio where I learnt — I'm very basic, man, I've been at the same shop for five years. Started off as the apprentice there, and now we do everything 50/50 split. He's always there for me when I need him. Lee stepped away from the traditional blackwork stuff, and focused more on realism, but I've stuck with it. It's sick working in a studio where, if someone walks in and asks, ​'Can you do this?', we can decide on who's best for the job."
Blonde.Bastard
"Don't even know his real name, and I think that's pretty cool, because he's literally just that on Instagram. I like people that follow a tag! Blonde.Bastard​'s work's about as basic as you're going to get, super-basic, almost cartoony. Witchy designs, always black, always bold. Always in the maddest places — he does a lot of throats, a lot of palms. I fucking love his palms, man. They're so solid."
READ THIS: Lyle Tuttle, pioneering tattoo artist, dead at 87
Myke Chambers
"Moving into international stuff, Myke Chambers is a dude from Philadelphia. He does the most colorful shit ever — really solid American traditional. He's been my guy for five years who I've always looked at, always referred back to. I used to love his stuff from the beginning, and I still do now."
Dan Morris
"He's just somebody that I'd go to because it's Dan Morris. If I'm scrolling through my feed — I follow a lot of artists — I'll pause on one of his, and I'm like, ​'That's sick.' It just screams him straight away. There are some that hold a style and have really recognizable designs, and I like that."
Brutal Blackwork
"This is a couple of dudes named Valerio and Cammy. Brutal Blackwork​'s just a lot of blackout limbs — arms, legs, chest. It's kind of on the pain scale of it, man — people go there and sit there for a full day, and they'll have these two dudes just work on them. It's heavy, it's fucking gnarly — it's quite gross to be fair! But the coverage they get done in a day, the massive amount of black that they use… I love it, I'm into it."
Leeched's new album, To Dull The Blades Of Your Abuse, comes out Friday, January 31, and is available for pre-order.
Catch the band live at one their UK dates later this year:
January

29 The Black Heart, London, UK
30 Alberts, Nottingham, UK
31 Crofter's Rights, Bristol, UK
February

01 Deaf Institute, Manchester, UK
02 Bannermans, Edinburg, UK
Posted on January 24th 2020, 5:00p.m.
Read More

System Of A Down frontman Serj Tankian believes that ​"being vaccinated helped minimise my symptoms and suffering" after testing positive for coronavirus.

In episode three of their Takeøver Tour video series, twenty one pilots hit Denver for four nights – kicking things off at the 550-capacity Bluebird Theater and finishing up by playing to 20,000 fans at the Ball Arena.