Features
Corey Taylor: My
2021

New Year's Resolution

Slipknot frontman Corey Taylor reveals his big New Year's Resolution for

2021

– and, quite frankly, it sounds like a tough old task…
On the work side of things, 2021 looks set to (hopefully) be another busy year for Corey Taylor, with a Slipknot European tour in the summer, the possibility of releasing more solo material, and maybe even a new ​'Knot record. Away from his professional life, however, the musician hopes to make a big – and fairly challenging – change this year: giving up sugar.
"That's my resolution – to try and get back to zero," he laughs to Kerrang! when asked about his 2021 New Year's Resolution. ​"I'll tell you what: it's been the one thing that's been the hardest for me to really let go of. I've quit smoking, I've quit drinking, I've quit drugs; I've quit all that stuff. But this is the one that's kind of hanging around."

Read this: Corey Taylor: ​"My reasons for making music have never changed"
Explaining his lingering problems with giving up all things deliciously sugary, Corey continues, ​"Maybe it's because I'm surrounded by it because I have kids – it makes it a little tougher. Plus my sweet tooth is also just so ridiculous: I once filled a red Solo cup with peanut butter and a half bag of M&Ms and ate it like it was a bowl of cereal… this is the kind of person you're dealing with (laughs). I'm not amateur – I'm a professional fat-ass!"
Despite his love of candy, he reveals that lockdown has been beneficial to him in terms of health and fitness.
"As my legs have gotten stronger after my knee surgery I've been able to work out more, I'm lifting weights, I'm running 5k every day, so I am trying to stay healthy and stay ready for when everything kicks back in," Corey adds on a more positive note. ​"I'm actually in better shape than I was before lockdown – I've been able to take advantage of that."
Catch a sugar-free Corey on the road with Slipknot in Europe this summer:
July
16 Moscow Park Live Festival, Russia
18 Kiev Upark Festival, Ukraine
21 Bucharest Romexpo, Romania
22 Plovdiv Hills Of Rock, Bulgaria
24 Athens Release Festival, Greece
28 Graz Stadthalle, Austria
29 Prague O2 Arena, Czech Republic
31 Wacken Open Air, Germany
August
1 Malmö Rock Slap Festival, Sweden
7 Port Of Turku, Finland
13 Gdansk Ergo Arena, Poland
15 Geneva Arena, Switzerland
19 Charleville-Mézières Cabaret Vert Festival, France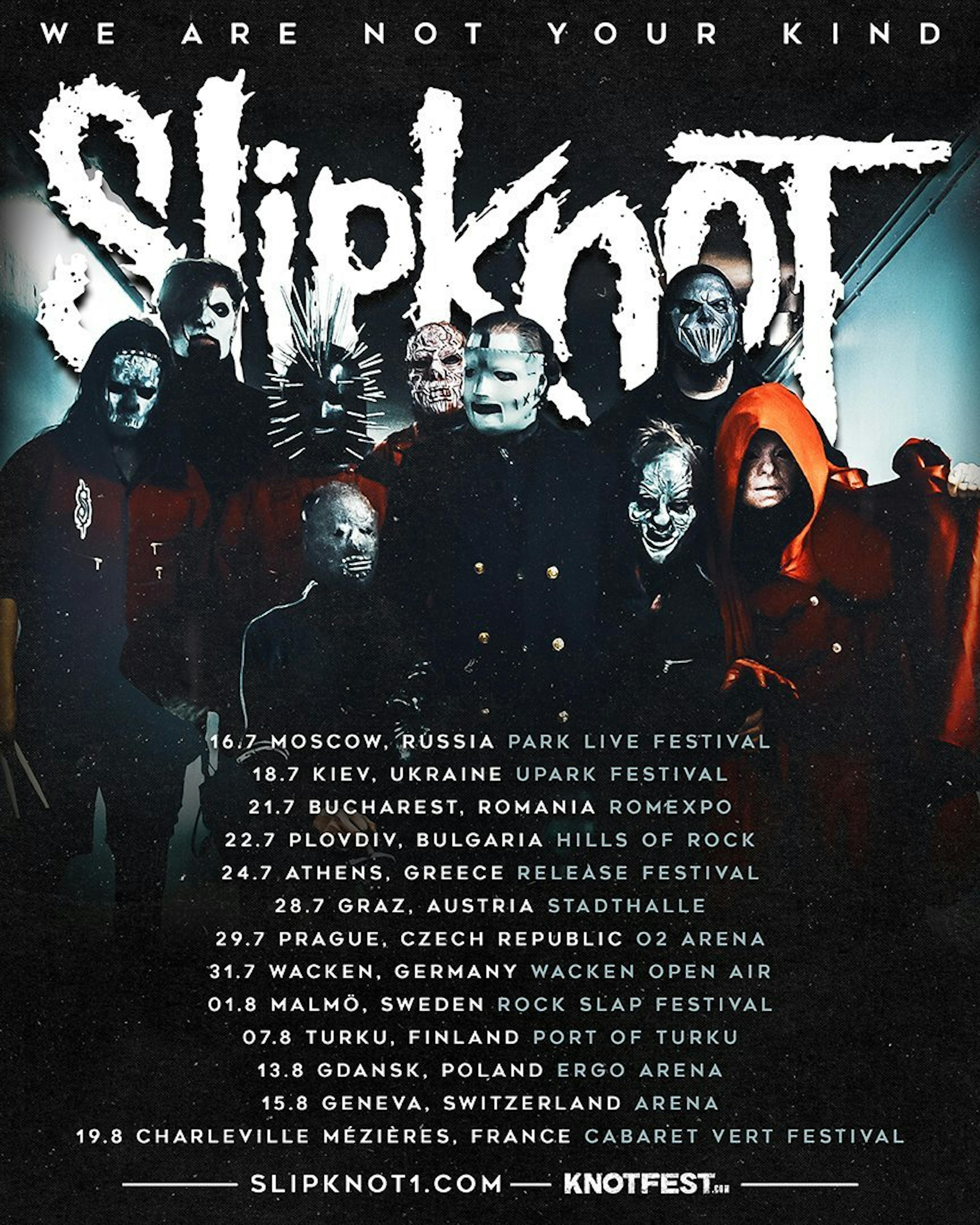 Posted on January 4th 2021, 4:49p.m.
Read More

On the anniversary of .5: The Gray Chapter, we look back at a genuinely pivotal moment in the life of The Nine: Knotfest 2014.

Angel Du$t singer Justice Tripp brings you the hottest new music you need to hear now, including High Vis, The Berries and Section H8…