Features
Six Things We Learned At Desertfest 2018
"You can call me a 'conspiracy theorist' or a 'conspiracy factist' but I look up and see a chemtrail falling on my head."
It's a glorious Bank Holiday in Camden Town: the sun's out, the beers are flowing and riffs are spilling out of five of London's finest venues. The funny looks come thick and fast as an army of battle jackets march through the start-of-summer splendour, but any discerning fan of ear-splittingly heavy, unapologetically hazy metal wouldn't be anywhere else this weekend. We got in on the action – and woke up this morning with the throbbing heads, broken teeth and blown minds to prove it.
So, what exactly did we find out?
WINTERFYLLETH HAVEN'T TURNED THEIR BACKS ON HEAVY
With latest LP The Hallowing Of Heirdom, it looked an awful lot like Mancunian Black Metallers Wnterfylleth had reinvented themselves as the devil's favourite folk-artists: as one cheeky punter puts it, "sort of like Mumford & Sons if they'd grown up watching The Wicker Man on repeat…" Opening The Electric Ballroom at the positively ungodly hour of 3PM ("We've got a ferry to catch…" laughs frontman Chris Naughton of their plans for some Beltane-related mischief) though, there's not an acoustic guitar, panpipe or lute in sight as they deliver a solid hour of the finest Anglified, electrified black metal money can buy…
MATT PIKE DEOSN'T GIVE A FUCK IF YOU THINK HE'S PART OF THE TINFOIL-HAT BRIGADE
"Human beings are gullible," laughs High On Fire frontman/Sleep guitarist Matt Pike as we catch up with him on a rare day off at the plush Britannia Hampstead on Primrose Hill. "You can call me a 'conspiracy theorist' or a 'conspiracy factist' but I look up and see a chemtrail falling on my head. School is like an enslavement camp for some. History books ain't true. If the media say something enough it may as well be fact. They lie to us our whole lives. Something like 1600 demolition experts have said there was no way the Twin Towers came down like they did without pre-placed charges. But everyone believes they did because CNN or Fox News crams it up your ass." The new High On Fire record, he promises will explore these themes. "IT'S FUCKING SICK! I'm not just about conspiracy. I'm about getting better at my art." There is an insistence, though, that someone needs to dig beneath the putrid surface of current politics. "Trump and Vladimir Putin talk on the [phone every day. They're into some weird shit. The Illuminati play games with people. Trump is a wildcard someone is playing to blindside someone in part of that game. The current system is about separating people – divide and conquer. I believe in aliens, too. That's just my belief and people can put a tinfoil hat on me all they like…"
THE OBSESSED ARE STILL THE STONER-METAL BE ALL AND END ALL
There's an amused look in legendary guitarist/The Obsessed frontman Wino's eye as he casts his gaze up over the ornate, three-tiered balcony of The Koko. He's one of doom/stoner metal's icons taking in a venue befitting his regal status. Bringing their classic vintage biker doom, he and and his troops of doom prove that in terms of sheer wallop, there are few people not named Tony Iommi who doom a riff like he. Piling on a shedload of tracks from 1994'sclassic The Church Within album, they guarantee a level of heaviostity that even the Atlas-like figures moulded into the Koko's concrete pillars might struggle to withstand.
THERE ISN'T REALLY A BETTER FRIDAY NIGHT SOUNDTRACK THAN EYEHATEGOD
We'll be honest: things were starting to get a little messy by the time the NOLA sludge-lords took the stage. Beer (and wine, and whiskey, and then a few dozen Jagerbombs) had already passed the lips of most punters in the room as frontman Mike Williams and drummer Jimmy Bower unleashed a soul-rattlingly intens set in The Electric Ballroom. For all the druggy nightmare imagery ofb tracks like Methamphetamine, Revelation/Revolution and Peace Thru War, though, there's the undeniable sense that the band – much like everyone else in attendance – are here with the express purpose of getting messed up and having a fucking good time. Safe to say, they signed off with mission accomplished.
METAL DOESN'T GET ANY MORE EMOTIONAL (OR MUCH BETTER) THAN WARNING
"I don't really listen to much metal these days…" gloriously miserabilist Warning frontman Pat Walker is overheard while soaking up a spot of sunshine out on the pavement before their set. Fair enough. We guess there isn't really much point in the Essex doomsters listening to other bands when for sixty minutes at sunset they deliver a set that's at the absolute apex of their field. Across the five tracks of 2006 epic Watching From A Distance we're drawn into a well of yearning and despair with a level of poignancy that most of their battle-jacketed peers could never even realistically aspire to. "Are you crying?!" a friendly pit-dweller throws an arm over our shoulder as things reach their peak. Must've been something in our eye…
NAPALM DEATH SHOWS ARE RIDICULOUSLY HAZARDOUS TO YOUR HEALTH
"I THINK I'VE LOST A TOOTH" sobs one punter in a brief passage of silence as the Brummie grind legends draw proceedings to a close in The Electric Ballroom's churning interior. A pulverising On The Brink Of Extinction has just rung to its deafening close. And, looking around at the bodies scattered across the dancefloor like troops lost in no-man's-land it seems like the song might be a lament for the brave souls willing to risk the front-row fray as well as the species of wildlife being driven out of existence. Frontman Barney Greenway and iconic bassist Shane Embury, of course, have seen this carnage a thousand times before and they look on with purpose and amusement but utterly zero sympathy. Nodding to the punk of Dead Kennedys (Nazi Punks Fuck Off) and the unhinged hardcore of seminal Swedes Anti Cimex (Victims Of A Bomb Raid) we get to glimpse a few of the different shades of chaos comprised in their grinding whole. With body-smashing, fist-flinging, off-the-chain closer Inside The Torn Apart, though, we're reminded that even thirty years down the line the greatest band in extreme music still aren't about spectator sport.
Words: Sam Law
Posted on May 6th 2018, 9:05am
Read More
In Conversation with Rou Reynolds of Enter Shikari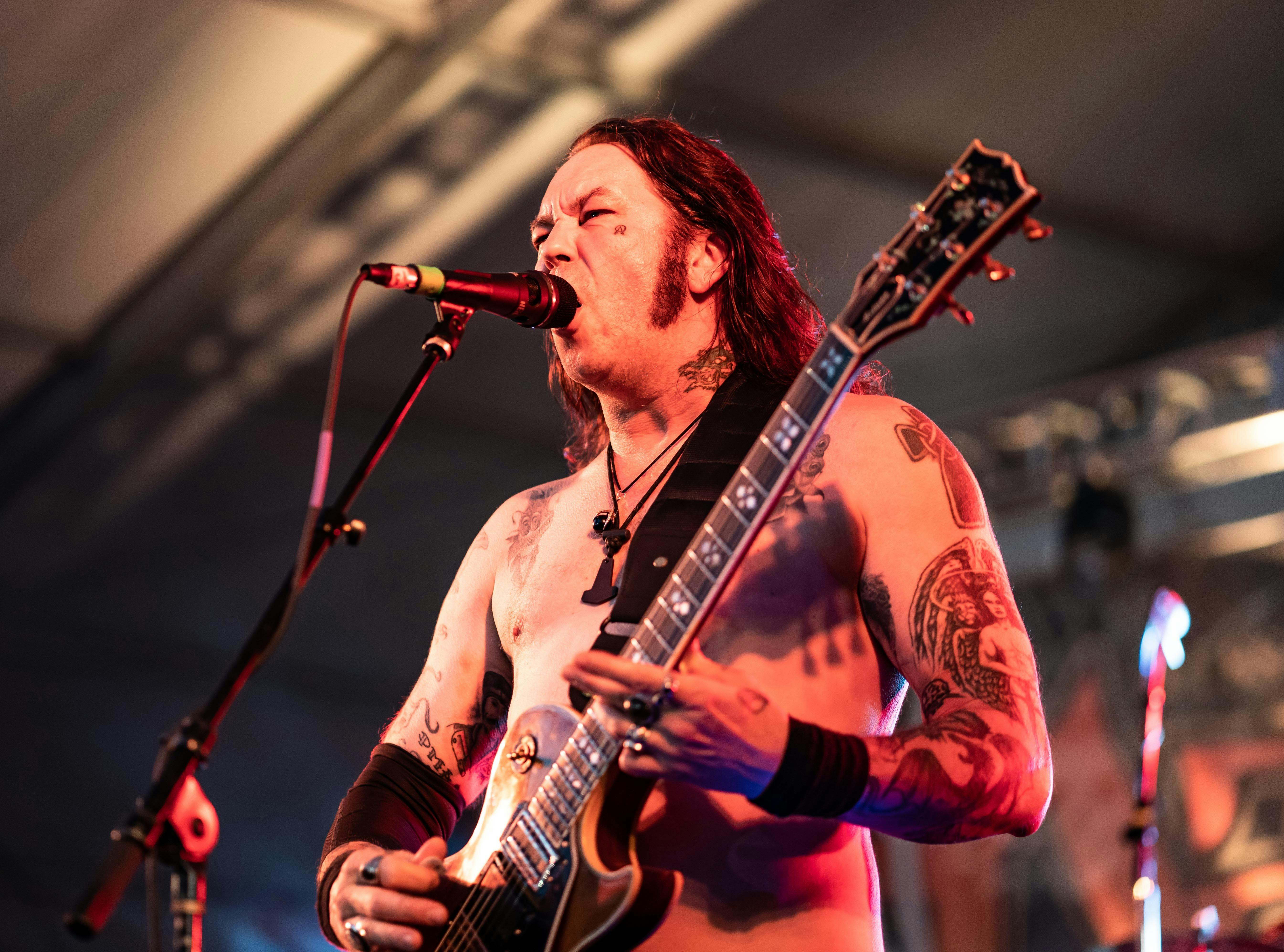 High on Fire headline a day of beer and metal at Three Floyds Brewery in Indiana.
Enter Shikari frontman Rou Reynolds joins us live in conversation