The News
Are Slipknot making a new album during lockdown?
Slipknot's Jay Weinberg: ​
"
Downtime is not a thought…"
Did someone say. ​"Slipknot are busy working on new stuff"? No. Sort of. Kind of looks that way, though. Back in October, Corey Taylor said that The Nine were trying to figure out what's next, which might include an album for 2021. Clown has said similar. Now drummer Jay Weinberg has spoken without giving anything away during a chat with WSOU.
"The short answer is that, yeah, I can't talk about it," he told them. ​"But it's been said before, and I have no problem reiterating it, is that we're all creative people, and when you have creative people like Slipknot has, downtime is not a thought; it doesn't exist. So when we need time to recharge, we recharge. And there's a saying in Slipknot that ​'off is off.' So we kind of respect that — when off is off, off is off, and that means I'm not gonna answer your phone calls, I'm not gonna answer your text messages. Off is off."
READ THIS: How Slipknot Changed My Life
"But there comes a certain point where that creative beast, I think, within all of us, it wakes up after a certain point. I'm, like, ​'Okay, I've been off tour a certain amount of time. I'm really feeling the itch to get creative.' And we all have that instinct. So it's been noted. Things have occurred. But nothing that I'll divulge other than I think we're all very excited to have time to focus on our creativity. So we'll see what comes of it. But I think we're all really excited with taking advantage of what we can our downtime year."
His words come as Slipknot announced a load of European dates for next summer. There's no UK gig in the announcement, but most of these places are but a short hop on a plane.
Slipknot European tour 2021
July
16: Moscow Park Live Festival, Russia
18: Kiev Upark Festival, Ukraine
21: Bucharest Romexpo, Romania
22: Plovdiv Hills Of Rock, Bulgaria
24: Athens Release Festival, Greece
28: Graz Stadthalle, Austria
29: Prague O2 Arena, Czech Republic
31: Wacken Open Air, Germany
August
01: Malmö Rock Slap Festival, Sweden
07: Port Of Turku, Finland
13: Gdansk Ergo Arena, Poland
15: Geneva Arena, Switzerland
19: Charleville-Mézières Cabaret Vert Festival, France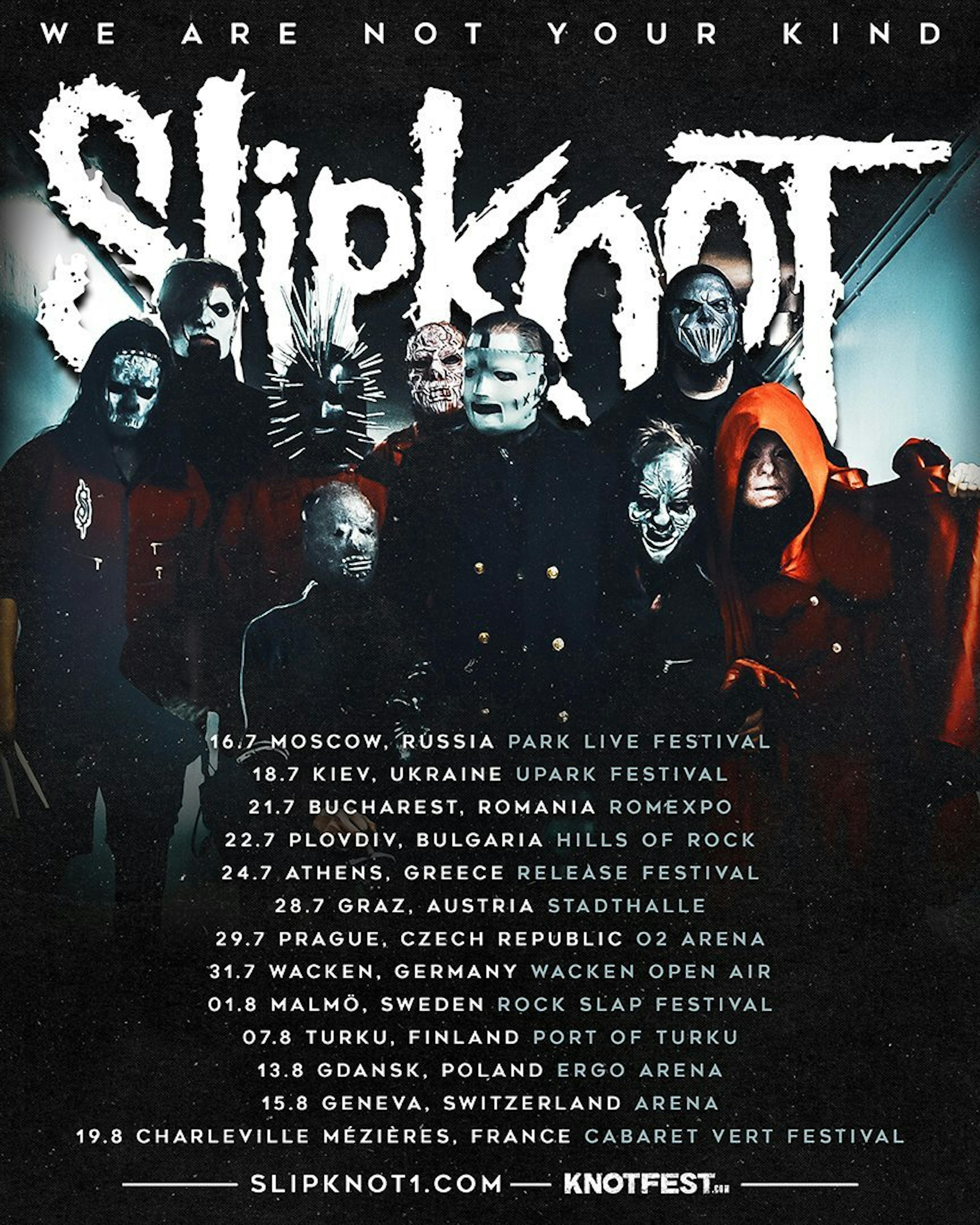 Posted on December 7th 2020, 5:02p.m.
Read More
Holding Absence in The K! Pit

Slipknot's Corey Taylor has spoken about the death of former bandmate Joey Jordison publicly for the first time: ​"He was way too young, and he was way too talented to lose him like this…"

As Foo Fighters began to settle into their role as one of the world's biggest bands, their sixth album Echoes, Silence, Patience & Grace propelled them to even greater heights…