The News
Corey Taylor talks
2021

plans: Touring, a movie, and writing another book

Corey Taylor tells Kerrang! what he hopes to achieve this year – from touring solo album

CMFT

and with Slipknot, to other creative projects…
It'll probably surprise no-one at this point, but after a busy and creatively fulfilling 2020, Corey Taylor is showing no signs of slowing down and having a break this year.
Speaking to Kerrang! about his plans for 2021, the musician reveals that he hopes – as long as the world is open and coronavirus safety guidelines will allow it – that he can hit the road with Slipknot, as well as playing solo shows in support of his CMFT album.
"That's essentially the plan right now," he says. ​"Right now I'm looking at almost a two-to-three-week tour in the spring with CMFT, and obviously it's going to take me a while to get overseas but that's definitely something I want to do. As far as major touring, I want to wrap up Slipknot; we had so many dates planned that we've had to push back. I'm doing the CMFT thing before the Slipknot tours kind of kick back in. Hopefully I'll be able to do that, and then just see what happens after that."

Read this: 20 classic albums that are 20 years old in 2021
Away from music, Corey continues: ​"Other than that, I'm probably going to get my movie going that I wrote a screenplay for, and I'm also working on probably writing my fifth book, finally. It's taken me four-and-a-half years to get over the hangover of the last one (laughs), and it's probably time for me to get back on that horse and figure out what to do next."
Reflecting on Slipknot's 2020 touring cycle getting cut short due to COVID, Corey jokes,​"I never thought in a million years I would miss the curmudgeons in Slipknot and being on the road with those growly pricks (laughs)… I long for that, and I can't wait to get back on the road with Slipknot and finish off that tour cycle when the time comes.
"Obviously we don't really know when that is, but with the decent news that the vaccines are looking promising, we have a very good chance to turn things around next year. Even though the winter is a little darker, maybe there's some light at the end of the tunnel – we just need to get through this time and hopefully get back to normal next year. And I'm no anti-vaxxer, trust me! As soon as it's ready I'm taking one, and I don't care what anybody says: I don't wear tin foil hats, and I certainly didn't vote for Trump, so I'm going to get a vaccine for this damn thing."
Catch Slipknot in Europe this summer:
July
16 Moscow Park Live Festival, Russia
18 Kiev Upark Festival, Ukraine
21 Bucharest Romexpo, Romania
22 Plovdiv Hills Of Rock, Bulgaria
24 Athens Release Festival, Greece
28 Graz Stadthalle, Austria
29 Prague O2 Arena, Czech Republic
31 Wacken Open Air, Germany
August
1 Malmö Rock Slap Festival, Sweden
7 Port Of Turku, Finland
13 Gdansk Ergo Arena, Poland
15 Geneva Arena, Switzerland
19 Charleville-Mézières Cabaret Vert Festival, France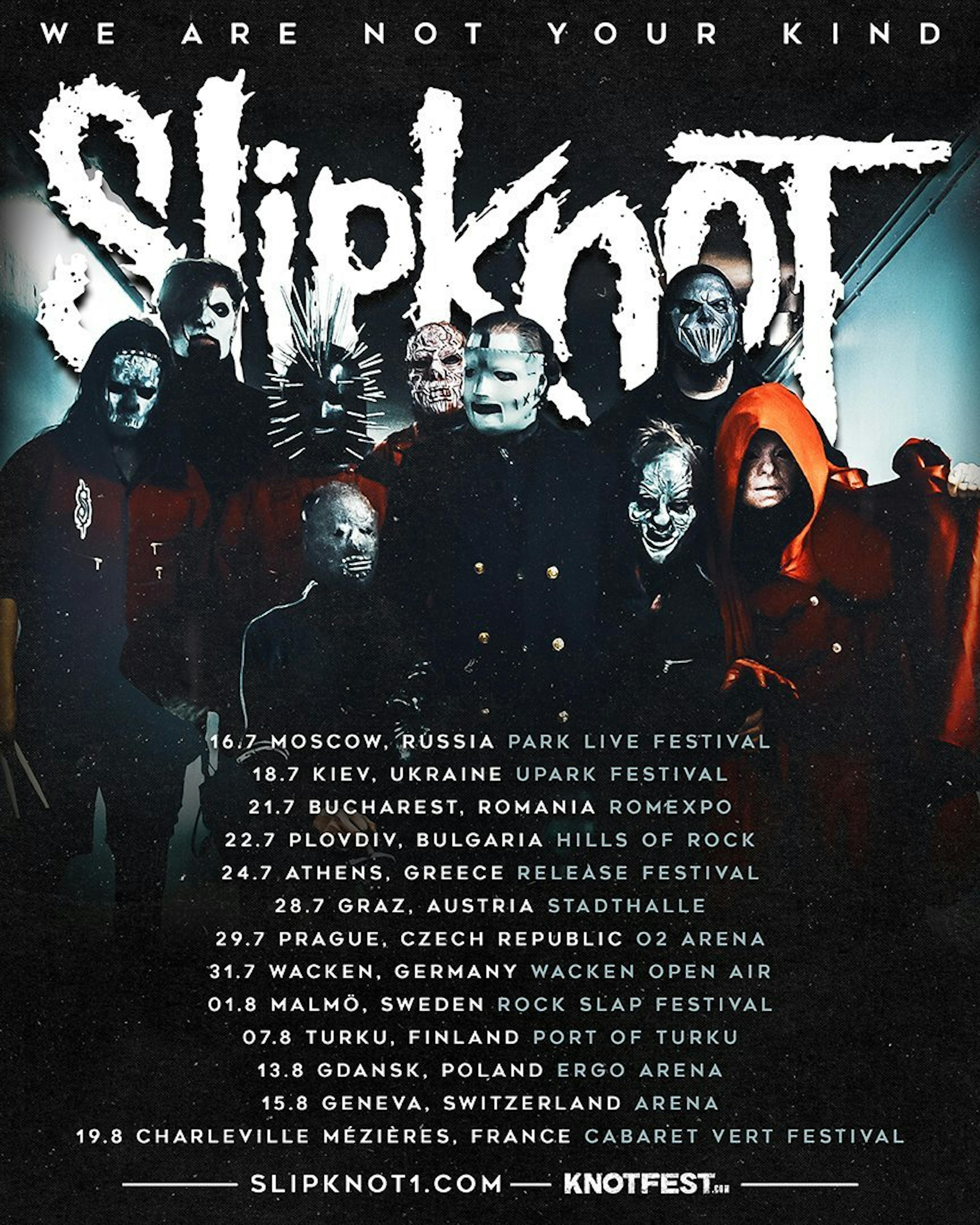 Posted on January 12th 2021, 5:00p.m.
Read More

On the anniversary of .5: The Gray Chapter, we look back at a genuinely pivotal moment in the life of The Nine: Knotfest 2014.

Another new track from Mastodon's ninth album Hushed And Grim has been released, ahead of the full record next week…