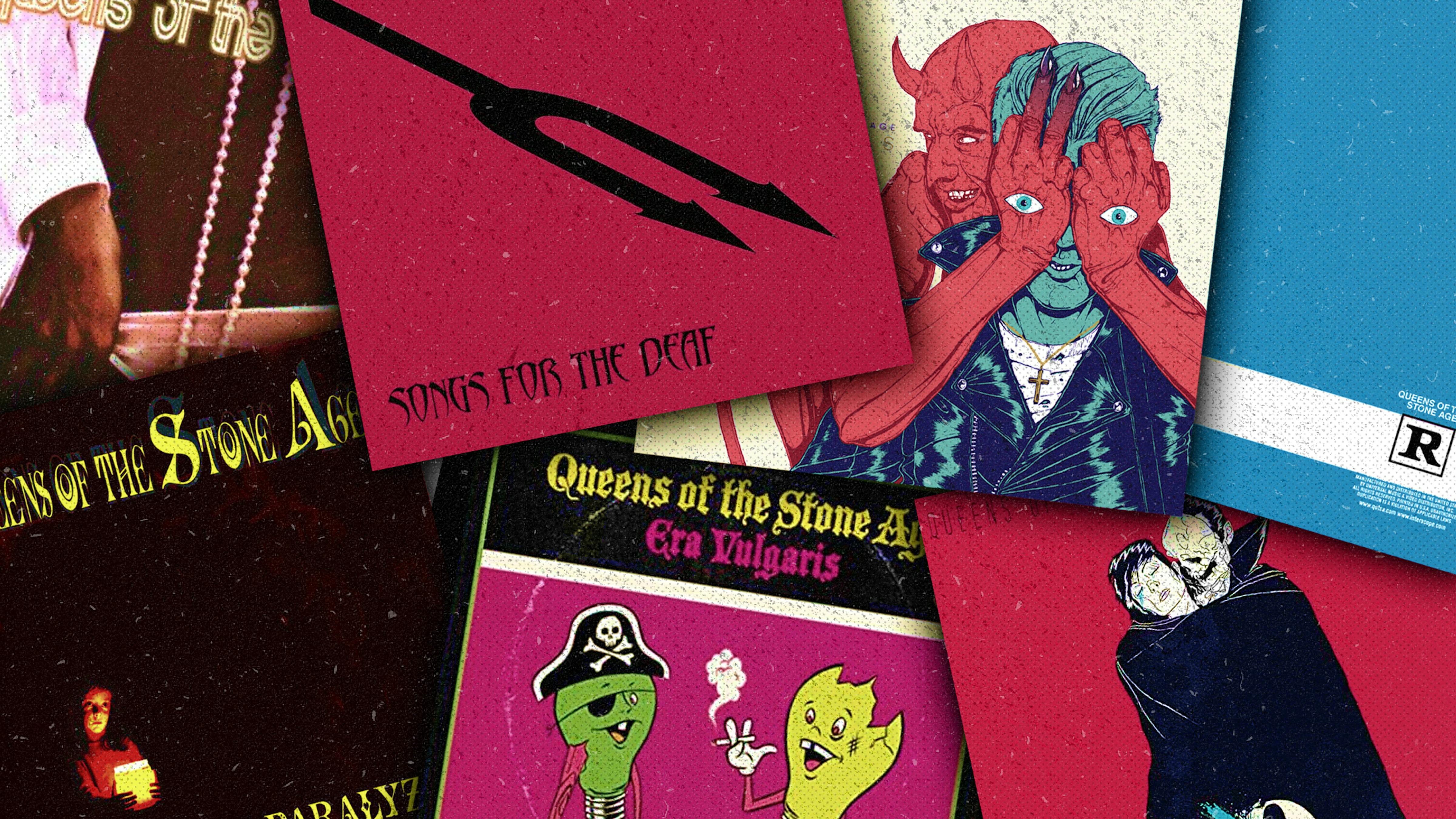 Features
Queens Of The Stone Age: Every album ranked from worst to best
We jump in our hotrod and ride out into the desert to rank Queens Of The Stone Age's albums in order of greatness…
"That way everyone's happy and it's more of a party," Josh Homme once said of the name Queens Of The Stone Age, with its mixture of femininity and machismo, the regal and the raw. Whether it's a description you agree with or not, there's no denying QOTSA know how to put on a hell of a bash, as their seven studio albums attest.
They're a mixed bag though, both in terms of quality and musical focus, depending on their fluctuating line-up, at the heart of which is Josh, the band's hulking, sneering lynchpin. Over the years we've had a supergroup spectacular here, a bluesy bad trip there, and much more besides, incrementally adjusting their musical DNA along the way, while also – by being so strange and dark and sordid – adjusting the parameters of what a massively successful rock band could be.
It's been a fascinating trip, but what's been their best album to date, and their worst? Which one takes the throne, and which is relegated to the status of pauper by comparison? Let's find out…
7. Queens Of The Stone Age (1998)
Something had to be last, and sadly it's their first. The debut album is, of course, a curious beast: the moment a band presents itself to the world, half-formed, a work-in-progress. But for all this self-titled stunner's obvious qualities, it's also interesting as an illustration of the unpredictable nature of success. Who could have imagined a band featuring two former members of Kyuss (Josh Homme and Alfredo Hernández) playing a more melodic variant of their stoner grooves would kickstart a journey to the top? Listening back to opening trio Regular John, Avon and If Only, perhaps we should have. Comparing this album to the others is to do it a disservice, though. Other than the aforementioned highlights, it's the sound of a band setting off when they don't yet know the destination. Bigger and better things were to come, but wouldn't have been possible without this first foray.
6. Villains (2017)
If there's one thing that's defined Queens Of The Stone Age, whatever their line-up or sonic focus, it's that they've always done their own thing and chased no trends. The news, then, that their seventh full-length was to be overseen by Mark Ronson – the man known for his work with Adele, Lady Gaga and Miley Cyrus – caused more than a few raised eyebrows. While it's unclear whether the collaboration had a hand in the greater autobiographical bent of Josh's writing, opening track Feet Don't Fail Me finds the lynchpin looking back in time: ​'I was born in the desert, May 17 in ​'73.' In the same song, he declares ​'I was chasing what's calling me', encapsulating the M.O. of a man continually following his muse, wherever she takes him. Sadly, she occasionally gives him the runaround here, and without a foil like Mark Lanegan present, Mark Ronson's production is a reupholstery job on those undisciplined impulses, rather than reinvigorating them.
5. Era Vulgaris (2007)
Translated from Latin, Era Vulgaris means ​'Common Era', so you'll forgive QOTSA's fifth album for being a little rough around the edges. What's harder to love, though, is its restlessness, which is often to the detriment of the songs. While Turnin' On The Screw kick things off in suitably laidback style, showcasing Josh's under-appreciated talent for a pithy turn of phrase ('You ain't a has-been if you never was'), things get a tad messy – and not always in a good way. For proof that Mr. Homme's hyperactive approach doesn't always pay dividends, look no further than the fact that two of the album's straightest shooters, Make It Wit Chu and 3's and 7's, are the obvious highlights. File under ​'flawed but fun'.
4. Lullabies To Paralyze (2005)
The public firing of Nick Oliveri in 2004 created a real before and after moment for QOTSA, forcing them to fundamentally adapt. With the bassist out, and Mark Lanegan in a reduced role due to touring commitments, the band's ranks were supplemented by guitarist Troy Van Leeuwen and drummer Joey Castillo. Shorn of Nick's furious energy, LTP is essentially a bluesy stoner rock album with an often leaden pace. Sometimes, as on Tangled Up In Plaid and Burn The Witch, that lollop yields the album's best songs; other times, like the listless Skin On Skin, it doesn't. Meanwhile, Little Sister and Someone's In The Wolf provide some of the finest distillations of the poppier and stranger parts of Josh's songwriting range, respectively. It's the most underrated Queens album, for sure.
3. Rated R (2000)
Flying in the face of the ​'difficult second album' concept, Rated R marked the true arrival of Queens Of The Stone Age, swaggering and staggering in equal measure. Much of its brilliance is down to the recruiting of frequently-bollocko bassist Nick Oliveri and Josh's former Screaming Trees bandmate Mark Lanegan. Not only did this line-up establish a white-hot chemistry that would sadly come off the rails a few years later, it created several trenches of songs: Josh's catchy stoner anthems (The Lost Art Of Keeping A Secret); Nick's unnerving wig outs (Quick And To The Pointless); and Mark's rasping serenades (In The Fade). And whether you preferred your jams of the mad or mellow variety, there's no denying Rated R remains as moreish as nicotine, Valium, Vicodin, marijuana, ecstasy and alcohol…
2. …Like Clockwork (2013)
This placement may prove controversial, but Josh Homme isn't a man to do things the easy way, so neither should we. There's ample reasoning for the decision, too; of all the band's albums, you could argue …Like Clockwork had the most work to do, the highest mountain to climb, following a run of middling albums that left some wondering whether the Queens had misplaced their mojo. That's not to say it's an overblown return to form. It's surprisingly understated, in fact, considering it features appearances from Dave Grohl, Trent Reznor and Elton John. More importantly, it's an uncharacteristically cohesive affair. So while the whip cracking If I Had A Tail and kaleidoscopic Kalopsia seem to have little in common musically, they're tethered by an intoxicatingly louche style. Enjoy the warmth of its slow burn.
1. Songs For The Deaf (2002)
There could be only one choice, couldn't there? Some albums are the result of all the stars aligning, of time and place and alchemy, a brilliant flash and everything is different afterwards. Given the intensity of this convergence, and a member's notable firing later on, Songs For The Deaf represents a peak the band is yet to touch again. People always remember it as the one that Dave Grohl played drums on – with some of his most iconic performances – but less that it was a concept album, albeit a loose one, chronicling a drive from Los Angeles to Joshua Tree, snatches of radio scanning included. This accounts for the rollicking pace of Hanging Tree and Go With The Flow, but also frames proceedings as more than a collection of irresistible songs, but a journey into the heart of Queens' greatest source of inspiration: the desert. Whether you're struggling to keep up with Dave's frenzied tubthumping on Song For The Dead, or trying to match Josh's falsetto on No One Knows (probably the only Queens song you could perform at karaoke with your parents), this is the kind of record you block out time to listen to. We therefore suggest you do so now.
Posted on April 19th 2021, 1:00p.m.
Read More

From unnecessarily long and wordy titles to phrases that just make you go, ​'Eh?!', these bands have been particularly imaginative when it comes to naming songs…

Fresh from playing with Svalbard and Heriot, CLT DRP have announced their own UK shows early next year…