The News
Corey Taylor has completed five film scripts
Corey Taylor opens up about his desire to delve deeper into the movie world, having completed five film scripts including one called Zombie Versus Ninja, which he's ​
"
shopping right now".
Late last year, Corey Taylor revealed to Kerrang! that his 2021 plans would hopefully consist of hitting the road (if things safely get back to that point, of course), penning his fifth book, and getting a movie going that he'd written a screenplay for. But now, in a new interview with WDHAFM, the Slipknot frontman says he's also completed scripts for a further four films.
With five movie ideas in total so far, Corey explains that his focus right now is on one called Zombie Versus Ninja, which he's ​"shopping right now". ​"It's exactly what [the title] implies," he enthuses (via Blabbermouth). ​"And it's rad. I'm shopping that right now with a group of people who have actually helped me kind of tighten the script up. They've got the contacts. We're kind of doing that right now."

Read this: 10 of the best Corey Taylor guest appearances
Though he could undoubtedly tackle one of the leading jobs, Corey admits his interest is more in the writing side of things, rather than a huge main role. That doesn't mean you won't see him onscreen at all, however…
"With any script that I write, I'll probably take a little, smaller role and kind of give it to myself," he says, later adding of Zombie Versus Ninja in particular: ​"There's a couple of roles in there that I'll probably mess with. They're not the main roles, but they're just kind of tucked in the background, and people will go, ​'Oh… hey!' So it's stuff like that that interests me.
"Actually, I have no real interest in a big movie role," he continues. ​"To me, the interesting part is writing the story. The interesting part, for me, is creating the world, and then watching people kind of make that world a reality. That's what I wanna see. I always said one of my goals was to see a movie through soup to nuts – from script to pre-pro to post to the screen."
Watch the full interview below:
Catch Slipknot in Europe this summer:
July
16 Moscow Park Live Festival – Russia
18 Kiev Upark Festival – Ukraine
21 Bucharest Romexpo – Romania
22 Plovdiv Hills Of Rock – Bulgaria
24 Athens Release Festival – Greece
28 Graz Stadthalle – Austria
29 Prague O2 Arena – Czech Republic
31 Wacken Open Air – Germany
August
1 Malmö Rock Slap Festival – Sweden
7 Port Of Turku – Finland
13 Gdansk Ergo Arena – Poland
15 Geneva Arena – Switzerland
19 Charleville-Mézières Cabaret Vert Festival – France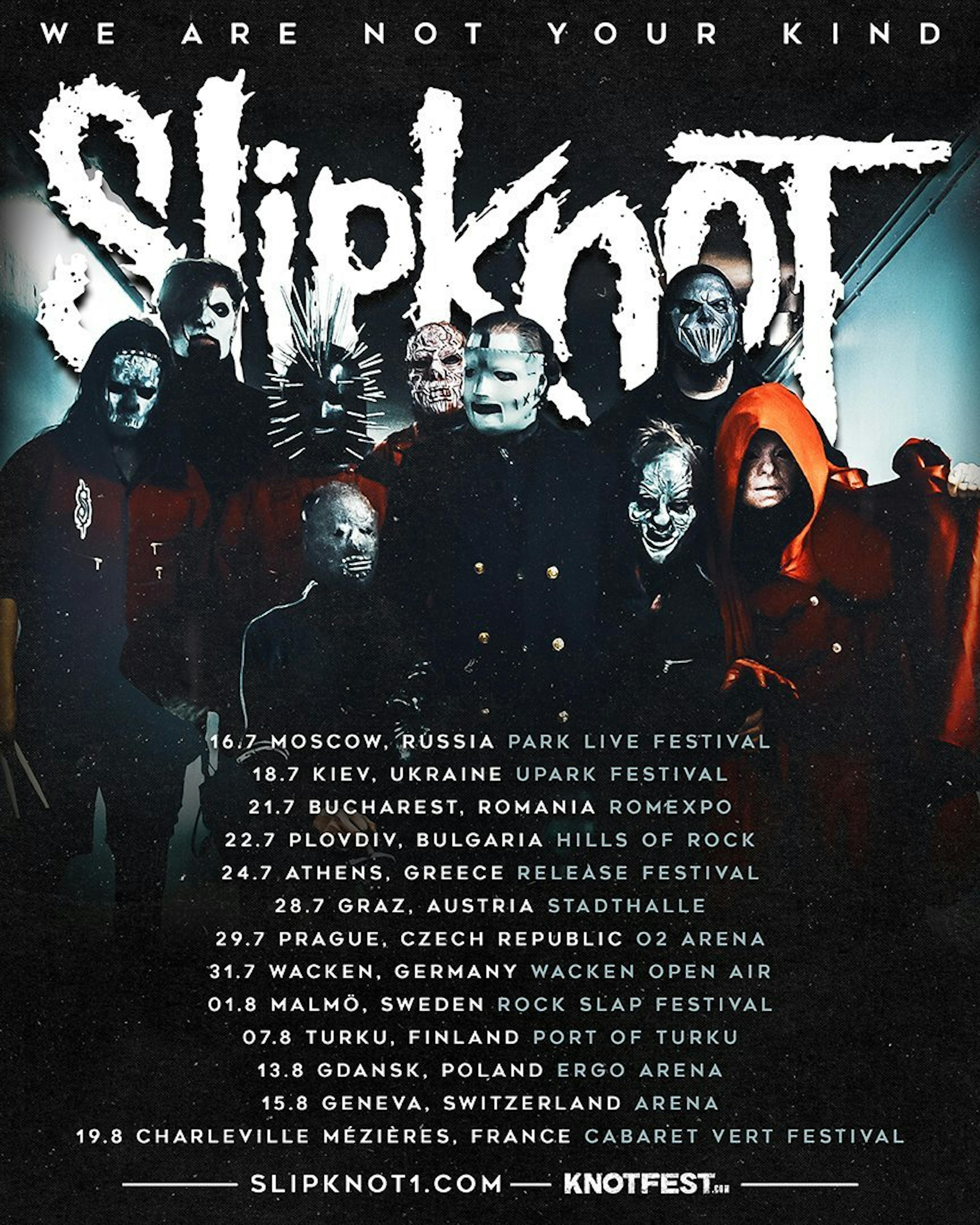 Posted on February 17th 2021, 11:45a.m.
Read More

On the anniversary of .5: The Gray Chapter, we look back at a genuinely pivotal moment in the life of The Nine: Knotfest 2014.

System Of A Down frontman Serj Tankian believes that ​"being vaccinated helped minimise my symptoms and suffering" after testing positive for coronavirus.