The News
Corey Taylor: ​
"

Massive" Slipknot news is coming in the next month

Slipknot have ​

"

some stuff brewing" – and we will ​

"

hear about it probably in the next month or so" according to Corey Taylor…
Get ready, Maggots: Corey Taylor has teased that there's some big Slipknot news on the way.
With the touring cycle for 2019's We Are Not Your Kind still to be finished, and the Iowa titans openly thinking about their new musical steps, it's incredibly exciting to ponder exactly what the frontman is hinting at. But, as he tells Kerrang! Radio: ​"There's some stuff brewing that I can't talk about, but it's massive. I can say this: you will hear about it probably in the next month or so, let's put it that way."
Corey also says of the ​'Knot's plans in 2021: ​"Slipknot is booked to tour America end of September. We are booked to go out. And we haven't heard anything yet that it's different. And we talk to [concert promoter] Live Nation every week. We're up to date on all of the different restrictions, not only in the [various U.S.] states, but federally. We're obviously keeping an eye on everything and kind of going from there."

Read this: 13 bands who wouldn't be here without Slipknot
On a solo front, Corey told Kerrang! late last year that he was also hoping to tour his CMFT record. ​"Right now I'm looking at almost a two-to-three-week tour in the spring with CMFT, and obviously it's going to take me a while to get overseas but that's definitely something I want to do," he said. ​"As far as major touring, I want to wrap up Slipknot; we had so many dates planned that we've had to push back. I'm doing the CMFT thing before the Slipknot tours kind of kick back in. Hopefully I'll be able to do that, and then just see what happens after that."
Away from music, he explained: ​"Other than that, I'm probably going to get my movie going that I wrote a screenplay for, and I'm also working on probably writing my fifth book, finally. It's taken me four-and-a-half years to get over the hangover of the last one (laughs), and it's probably time for me to get back on that horse and figure out what to do next."
Reflecting on Slipknot's 2020 touring cycle getting cut short due to COVID, Corey joked: ​"I never thought in a million years I would miss the curmudgeons in Slipknot and being on the road with those growly pricks (laughs)… I long for that, and I can't wait to get back on the road with Slipknot and finish off that tour cycle when the time comes.
"Obviously we don't really know when that is, but with the decent news that the vaccines are looking promising, we have a very good chance to turn things around [in 2021]. Even though the winter is a little darker, maybe there's some light at the end of the tunnel – we just need to get through this time and hopefully get back to normal next year. And I'm no anti-vaxxer, trust me! As soon as it's ready I'm taking one, and I don't care what anybody says: I don't wear tin foil hats, and I certainly didn't vote for Trump, so I'm going to get a vaccine for this damn thing."

Watch Corey's latest chat with K! Radio below:
Catch Slipknot in Europe this summer:
July
16 Moscow Park Live Festival – Russia
18 Kiev Upark Festival – Ukraine
21 Bucharest Romexpo – Romania
22 Plovdiv Hills Of Rock – Bulgaria
24 Athens Release Festival – Greece
28 Graz Stadthalle – Austria
29 Prague O2 Arena – Czech Republic
31 Wacken Open Air – Germany
August
1 Malmö Rock Slap Festival – Sweden
7 Port Of Turku – Finland
13 Gdansk Ergo Arena – Poland
15 Geneva Arena – Switzerland
19 Charleville-Mézières Cabaret Vert Festival – France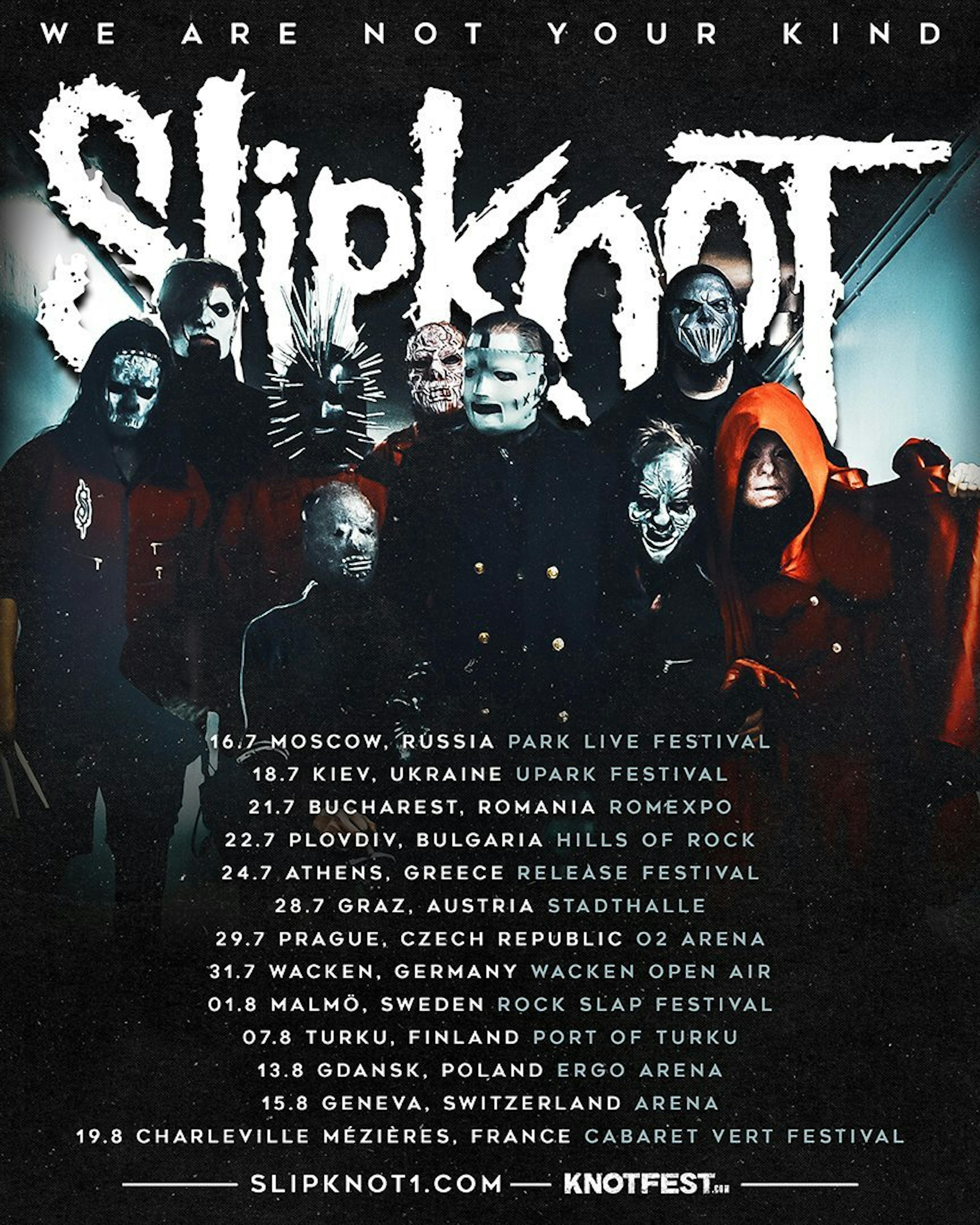 Posted on February 19th 2021, 11:34a.m.
Read More

Corey Taylor says that Slipknot's new album – the follow-up to 2019's We Are Not Your Kind – is ​"probably about 80 per cent done", with a new single coming very soon…

Architects are releasing their 2020 Royal Albert Hall livestream show on vinyl and video-on-demand.