The News
Slipknot announce European tour for
2021
Slipknot have announced a ton of European dates for summer
2021
Slipknot have announced details of a European tour for next summer.
Kicking off in at Moscow's Park Live Festival in Russia on July 16, the masked maniacs will travel across the continent before ending at the Cabaret Vert Festival in France on August 19.
Following the postponement of Knotfest Japan until 2022, these European dates form the backbone of the ​'Knot's live shows for next year. But we wouldn't be surprised if there were more dates added… a UK show perhaps?
READ THIS: The 20 greatest Slipknot songs – ranked
2021 could indeed be a very busy one for Slipknot, as last week frontman Corey Taylor revealed that the band were thinking about dropping a new record next year.

"The plan right now with Slipknot is to try and A) finish up the touring next year, and B) we're thinking about kind of putting another album out maybe next year," he said.​"But I don't know. I don't know what the plan is yet.
"I just know that we all kind of feel like there's unfinished business and we wanna finish that out before we do anything. But I know that we were talking about doing it,​'cause we only have one album left on our contract [with our record label]."

A Slipknot tour and album? That will certainly make up for the painstorm of 2020.
Slipknot European tour 2021
July
16: Moscow Park Live Festival, Russia
18: Kiev Upark Festival, Ukraine
21: Bucharest Romexpo, Romania
22: Plovdiv Hills Of Rock, Bulgaria
24: Athens Release Festival, Greece
28: Graz Stadthalle, Austria
29: Prague O2 Arena, Czech Republic
31: Wacken Open Air, Germany
August
01: Malmö Rock Slap Festival, Sweden
07: Port Of Turku, Finland
13: Gdansk Ergo Arena, Poland
15: Geneva Arena, Switzerland
19: Charleville-Mézières Cabaret Vert Festival, France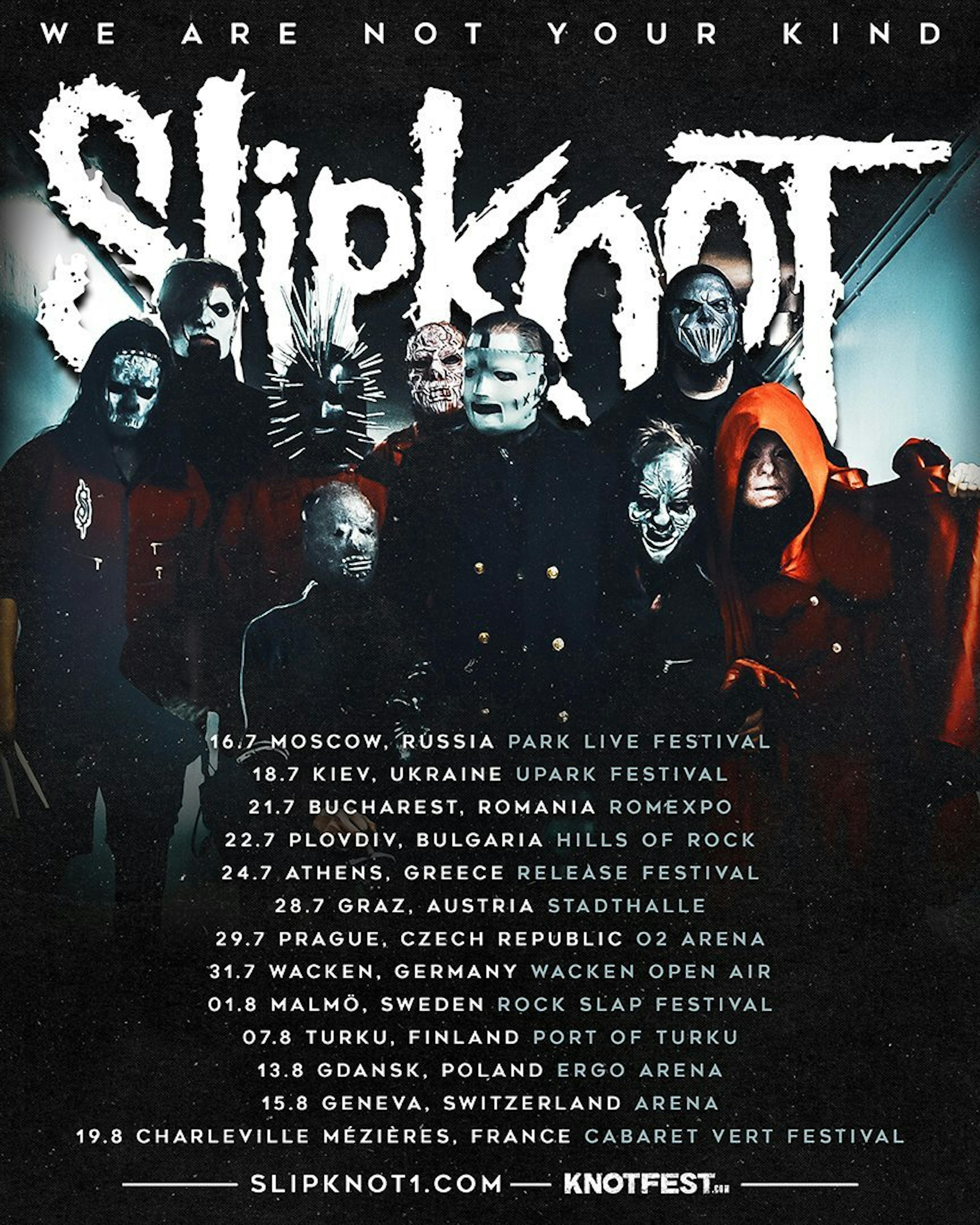 Posted on December 7th 2020, 10:40a.m.
Read More
Holding Absence in The K! Pit

Slipknot's Corey Taylor has spoken about the death of former bandmate Joey Jordison publicly for the first time: ​"He was way too young, and he was way too talented to lose him like this…"

As Foo Fighters began to settle into their role as one of the world's biggest bands, their sixth album Echoes, Silence, Patience & Grace propelled them to even greater heights…